Pamela Frazier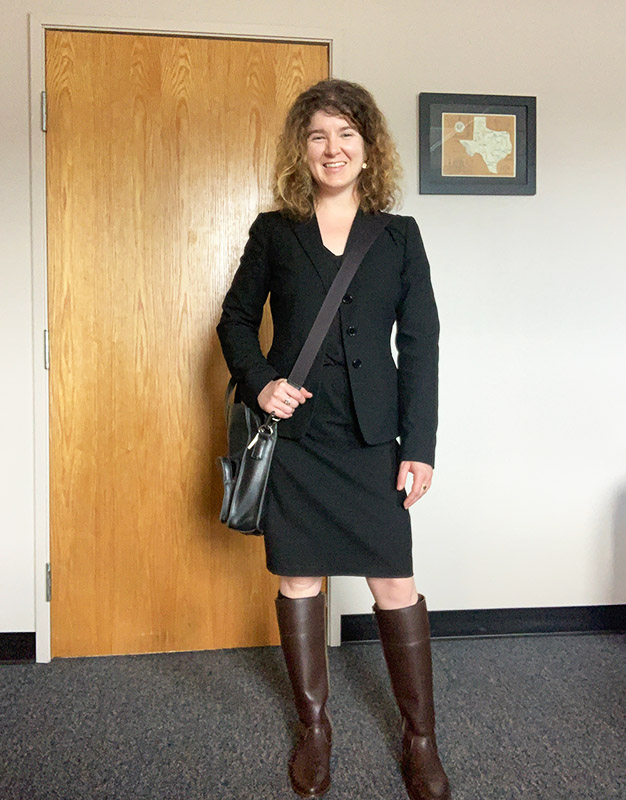 Pam is from the gulf coast region of South Texas. Pam is proud to be Texan. Although Pam misses the armadillos and the alligators, Pam much prefers the culture and cooler climates of the West Coast.
Pam has been practicing law since 2013. She moved from Houston to Portland in 2010 to attend Lewis and Clark Law School. After graduating, Pam passed the Oregon bar exam in 2013, and the California bar exam in 2014. Pam worked at a general practice firm in Eastern Oregon from 2013-2015, and during that time she practiced in both Lake County, Oregon and also Modoc County, California. Pam joined the public defender office in Coos Bay in August 2015. Pam finds that the work suits her active lifestyle and anti-authoritarian views.
Pam understands that what it means to achieve victory depends on the particular circumstances of each case, and what the client's individual goals are. Pam works to understand the client's situation and to meet the client's individual needs with regard to their case.
Pam has achieved numerous victories in trial, and in preserving successful appellate issues. For example, in 2017, Pam brought a Motion to Suppress challenging the constitutionality of a search performed in the Coos County Jail pursuant to the jail's inventory policy then in effect. Her argument prevailed on appeal, which subsequently led to dismissals of many other cases in which searches had been performed pursuant to the same inventory policy. Pam has also achieved victories through other areas of advocacy for clients, and in the social worker aspects of the job.
Pam's background outside of law includes music and theater. Pam has formal training in classical and operatic vocal performance, and has sung with various semi-professional choral groups. She has, in the past, sung in large-scale choral productions with famous conductors and full symphony orchestras. More recently, Pam has been in community theater productions locally, including Fiddler on the Roof in 2015 with Logos Players, and Vagina Monologues in 2017 with Dolphin Playhouse.
Pam also has a strong interest in animal rights, and actively supports organizations that rescue and advocate for animals. Pam also has rescued and adopted many animals over the years.
Pam traveled internationally for several years, including Egypt, Guatemala, The Netherlands, and Thailand. Pam particularly loves train travel, and in recent years has annually crossed the borders into Canada and Mexico while traveling most or all of the way via Amtrak.
Stacey K. Lowe
Born and raised in Lane County. I went to Winston Churchill High School and then on to Lane Community College. Originally I thought I would be an investigative journalist with a focus on large corporations and the damage they can do when money is prioritized over community. Then, while I was taking the class Law for Journalists at University of Oregon I realized that I loved researching and arguing the law and my focus changed. I went to the University of Oregon School of Law and nearly quit during my first year. I stuck it out though, had my first child during my second year and graduated in 2004. I came to Coos County and Southwestern Oregon Public Defender Services on February 14, 2005 and have been here ever since. I have always believed in our system of justice imperfect though it is. In order for our system to work dedicated public defense attorneys are essential. We hold the state accountable and do our very best to ensure that all of our clients are treated with dignity and that their Constitutional Rights are upheld. I began doing criminal defense work then moved into juvenile law which I love. Justice must be for all not just those who can buy it otherwise it is meaningless.
Robert
Education
Bachelor of Arts in Political Science, Oregon State University (2003)
Bachelor of Arts in History, Oregon State University (2003)
Doctor of Jurisprudence, Texas Tech University (2006)
Master of Science in Personal Financial Planning, Texas Tech University (2006)
Background
I was born and raised on the Southern Oregon Coast and after moving away for new experiences I returned to Oregon in 2006 where I took the bar exam. Prior to joining Southwestern Oregon Public Defenders in 2011, I had the opportunity to work at a private law firm in Newport, Oregon, that handled court-appointed criminal cases. That experience along with later working as the court-appointed defense attorney in the City of Reedsport Municipal Court while operating my own practice, led me to want to practice criminal law defense on a full-time basis. While I am not working in the office or in court representing clients, I enjoy traveling as well as attending as many concerns and live sporting events as I can.